Discoveries are ALWAYS interesting! Every now and then we stumble onto a new feature offered in QuickBooks Online. Last week was one of those times we felt as if we had stubbed our toes and we want to share our discovery with you, which is Time Entry in QuickBooks Online.  QuickBooks Online Payroll continues to be updated with new features. Most of the time awesome – this one, not so much for anyone who has employees that are on hourly pay.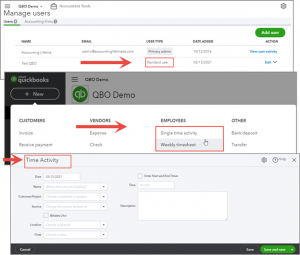 Who is authorized to enter time in an existing QBO file? 
Time entries can be made on either a weekly or single basis, whichever is preferred and can be added to the QuickBooks Online Files by a standard or admin user. Both users have the same permissions as far as entering time for all employees. This presents a convenient way office managers can enter time for their employees as needed.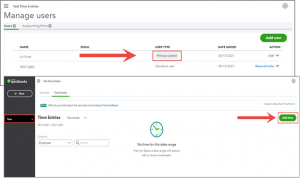 What if it is a newly created QBO file? 
Time entries can only be added by admin users. The preferred location for entering time is a new center called "Time" in QBO. Within the time center, admin users can still enter time activities as well. As of now, standard users cannot enter time in newly created QBO files as it seems they do not have the appropriate permissions to access time for employees or even themselves. When a standard user attempts to do so, there is an error message that pops up. This, of course, is very inconvenient because many business owners do not want to grant an office manager admin permissions just so they can enter time.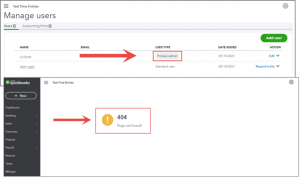 It is always possible this is only a temporary issue and that changes may happen. What we do know is the "Time" center in QBO is a newly added center to the existing navigation bar so it is possible the user permissions might soon be updated too to solve this dilemma.
To learn more about Time Entry in QBO, click here!
Contact us today if you need help setting up QBO or have QBO questions.