There is a new contractor payment option that enables QBO Accountant to offer clients the option to add contractor payments to their monthly subscriptions without opting into payroll.
Clients asked if they could use the integrated contractor payments center without having a payroll subscription. Until now, I have always had to relay to these clients; they must have an active QuickBooks Online Payroll subscription to have QuickBooks Online direct deposit contractor payments. However, it appears enough feedback was provided by Intuit that there is now a new add-on that only ProAdvisors can offer to their clients.
One of the bonuses of using the QuickBooks Online Contractor payments selection is completing a 1099 E-filing is included at no additional cost! I have been using the contractor payment option within my firm, and payments are easy to track in QuickBooks Online without using another 3rd party importer and it's convenient to make the direct deposits.    
With the many clients I work with, most have contractors they hire in their growing small businesses but they have yet to leap into payroll. Having the option to add-on contractor payments without payroll is a win for those clients since the price is just $4.00 per month per contractor without any recurring subscription fees to pay. As these clients grow into payroll, they can opt into that additional subscription when they need it.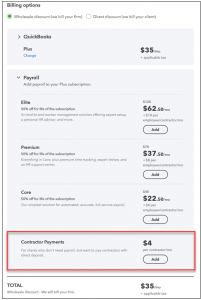 In order to add Contractor Payments to a new QuickBooks Online subscription, click the box during the setup phase. You can see the cost for contractor payments doesn't include the recurring subscription like payroll.
To add a new Contractor Payments client:
1) Log into QBOA.
2) Click Clients from the left-hand menu.
3) Click Add client.
4) Complete the new client form.
5) Select the appropriate options for the QBO and Payroll subscription. 
Side Note:

Contractor Payments requires a QBO subscription
6) Review the monthly charges and cost per employee for the new subscription.
Side Note:

To add a wholesale client, the company payment method must be added if not on file
7) Click Add next to Payment Method if a payment method is not on file
8) Click Save
9) Review and add client confirmation pop-up.
If you would like to learn more on how to add contractor payments to existing subscriptions, you can follow this link to learn more about setup.
Please be aware that this new Contractor Payments add-on is just now rolling-out to accountants, while it may not be available to every QBO-Accountant user at this time, it should be fully live very soon.