The most crucial part of running a company is trusting and understanding the company's financial position. With Accounting Lifeline QuickBooks Virtual Bookkeeping, you can have peace of mind that your books, including bank accounts, will be correct to have an accurate picture of what is going on in your business. It is teamwork which creates stability and growth. We offer many various services to fit your business model so that you don't have to customize around us.
Accurate Financial Reporting
QuickBooks offers many different financial reports that you can customize, such as balance sheets, profit and loss reports, and income statements. Having accurate financial reports is very critical for making business decisions. Without accurate reporting, your business could run off course and not make payroll or meet other business obligations, and you won't know until it is too late to come back from it. Click here to see some more information on different financial reports you should use to help your business stay on track. Accounting Lifeline can partner with you and make sure your numbers are accurate with QuickBooks Virtual Bookkeeping. Accounting Lifeline verifies that your reporting is correct, so when you make significant business decisions, you can feel confident in the numbers you are basing them off. 
Managing your Expenses
Staying aware of all the money that is owed is very important for your business. Accounting Lifeline can create reports which show the aging of accounts receivable for your business. Our reports can help you manage your company by determining cash flowing in as well as the potential for collections. We also make sure all your expenses, credit cards, and bank statements are reconciled, which is essential for accurate reporting.
Processing Payroll 
Along with managing your accounts payables and receivables, we can also process payroll for you using QuickBooks Online Payroll. If there aren't enough funds to cover payroll, we can help guide you through your reports to help determine if how much money is needed and possibly how to cover expenses. We also look into finding out what your company qualifies for through this pandemic, including PPP, to help get you applied. Bookkeeping is a very crucial part of creating a successful business or breaking one. We are here to provide you efficient and accurate data for your business to thrive in 2021. 
Year-End Taxes
Accounting Lifeline can update and prepare your general ledger and financial statements as the Year-End Taxes approach. We can also help compile & prepare your tax documents such as W-2's, 1099's and other miscellaneous documents. 
Here is a list of a few things we offer and assist with through monthly bookkeeping for your company: 
Import all banking transactions for you weekly
Reconcile all expenses on Credit Cards and Bank Statements
Offer a Monthly overview meeting to help review goals and where we are
Create &/or Adjust journal entries
Review financial statements
Process payroll
Compile & prepare your tax documents
Enter weekly bills
And the list goes on depending on your company's needs.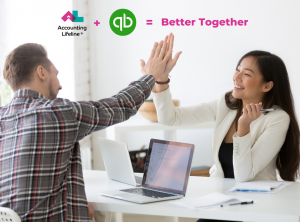 Together, we are stronger in our knowledge, thoughts, and abilities. We are here to offer you accurate data in a practical, timely manner with excellent customer service so that you can create and reach your company goals. Schedule a virtual meeting here to learn more about how we can help your business with QuickBooks Virtual Bookkeeping.